Team building games and activities are usually educational, but sometimes we forget they are supposed to be fun! As a result, we plan our team building for Carlsbad businesses to provide everything! Most of all, for a fun atmosphere using virtual reality, or VR, Each team building exercise is different. First, a team building activity to allow the members to learn about each other. Second, the activity or game should help each member learn how to better work together. Our VR games will encourage everyone to work simultaneously and to learn how to think, problem solve, and have fun together.
The dictionary defines a team a number of persons associated together in work or activity. A team that works well together will produce better results. In addition, the team will be effective at their jobs and will ultimately be more successful. Likewise, a team that works well together will most likely be happier and more enjoyable to be around.
And we get it, sometimes just hearing the words, "team building" will elicit groans and moans from even the happiest of corporate team members. As a result, we have the solution. It's like nothing you've ever tried before! Technology has made huge strides and the world of virtual reality is here to stay. Our virtual reality system and activities will impress even the staunchest team member. Above all, our Hypertag™ game will give your team everything they could ask for in an event. Your team will communicate, get some exercise, work together, compete, and best of all have a blast doing it!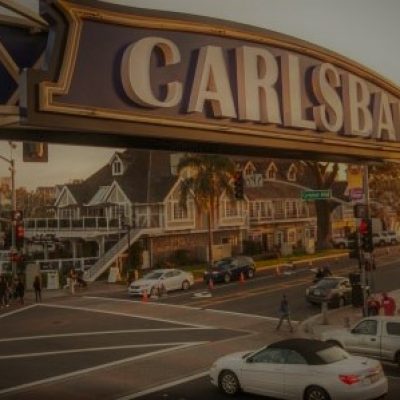 Team Building Events Carlsbad
Hypertag™ is the world's first multiplayer virtual reality game custom made for eSports. Our team game is normally up to six (6) players, but if we go offsite and come to you we can accommodate up to 32 players. If you are looking for some team building, there is no better way than a 16 on 16 competition to encourage activity and team bonding.
The list of activities and events in Carlsbad, CA is long. Some activities include visiting Legoland, the huge skate parks, the vast beach, or even visiting Artist Alley where the Grid is located. The Grid is in the heart of downtown Oceanside, just up the road from Carlsbad. Our virtual reality is just a short drive from anywhere in Southern California. It is highlighted in local events such as Artist Alley Interactive. Come be a part of a fantastic art scene and incorporate your team building events Carlsbad into your group or company.
Where in Carlsbad can we do a team building event?
Southern California has amazing events and activities for all ages. Carlsbad is located here and is a short drive to many of the major activities going on in the region. Included in the things to do in the region is visiting the Grid located in Artist Alley. Per Trip Advisor, Artist Alley is a popular tourist destination and very influential in the local artist scene for the area. When visiting the area, come down to the Grid and check out our Virtual Reality.
The Grid's Hypertag™ is your personal or team building event destination in Carlsbad, CA. Hypertag™ is where you can play up to six (6) players at a time and you can get your teamwork exercises in order. First, the game will encourage strategy and execution to compete. Second, in order to win each team must work together and incorporate a team strategy. In short, the Grid is your answer to any team building activity or game and will be a great time for all players involved!
Indoor team building activities in Carlsbad
It just so happens that the best team building activity is indoors! The Grid is your place for any indoor eSports in Carlsbad and the surrounding southern California area. Find reviews for the Grid on Yelp or Google and then come check it out for yourself!
Esports arenas are any indoor arena that hosts electronic sports competitions. The Grid is an indoor eSports arena and has the seating to fit the large number of fans that attend the event. Esports is an extremely fast-growing competitive form of entertainment. Over 400 million people will watch eSports this year! The Grid is your opportunity to be a part of this growing sport!
Virtual Reality and eSports are an amazing opportunity for one or many to engage in the sports entertainment industry. In other words, the Grid is an amazing opportunity for your corporate team to enjoy some indoor team building activities in Carlsbad, CA!